The Biden administration and a drug manufacturer on Friday asked the U.S. Supreme Court for emergency relief to block a lower court order that would limit access to abortion pills. 
The Justice Department and Danco Laboratories, which makes Mifeprex, known by the generic name mifepristone, filed separate requests with the Supreme Court seeking a return to the status quo after the U.S. 5th Circuit Court of Appeals rolled back deregulation of mifepristone.
On Wednesday, a three-judge panel on the 5th Circuit voted 2-1 to reverse a decision by U.S. District Judge for the Northern District of Texas Matthew J. Kacsmaryk which halted the FDA's approval of mifepristone. However, the appeals court decision made mifepristone available only to be dispensed up to seven weeks, not 10, and not by mail.
The Justice Department argues these restrictions will significantly limit access to mifepristone even in states where abortion is legal.
DOJ TO APPEAL ABORTION PILL CASE TO SUPREME COURT
"If allowed to take effect, the lower courts' orders would upend the regulatory regime for mifepristone, with sweeping consequences for the pharmaceutical industry, women who need access to the drug, and FDA's ability to implement its statutory authority," U.S. Solicitor General Elizabeth Prelogar said.
The solicitor general told the Supreme Court this is the first time, to the government's knowledge, that any court has overruled a Food and Drug Administration (FDA) determination on safety. She also emphasized that agency experts have said mifepristone is safe to use for more than 20 years and that millions of American women have used the drug to abort their children. 
Danco Laboratories told the Supreme Court that the lower courts decisions have "created regulatory chaos," requiring FDA to "effectuate a series of extensive approvals" to comply with the 5th Circuit's rollback. 
"Without those approvals, Danco cannot legally market and distribute mifepristone," attorneys for the manufacturer said. 
ABORTION PILL MANUFACTURER DANCO LABORATORIES SLAMS TEXAS JUDGE'S RULING HALTING FDA APPROVAL OF MIFEPRISTONE
At the same time, the Danco points out a contradicting court order issued by U.S. District Judge Thomas Rice has enjoined FDA from changing any aspect of its regulation and approval of mifepristone in response to a separate lawsuit from 17 states and the District of Columbia.
"The result is an untenable limbo, for Danco, for providers, for women, and for health care systems all trying to navigate these uncharted waters—and all after Plaintiffs waited years and years before claiming irreparable injury and a need for an emergency injunction voiding the decades-long status quo." 
Pro-life doctors and medical groups are challenging the FDA's approval of mifepristone, alleging in a lawsuit that the agency unlawfully approved mifepristone in 2000 and that the drug is unsafe. 
Mifepristone, known by the brand name Mifeprex, is a pill taken with misoprostol in a two-drug regimen that first deprives an unborn baby of hormones it needs to stay alive and then causes cramps and contractions to expel the dead fetus from the mother's womb.
WALGREENS WON'T SELL ABORTION PILLS IN 20 STATES WHERE REPUBLICAN ATTORNEYS GENERAL OBJECT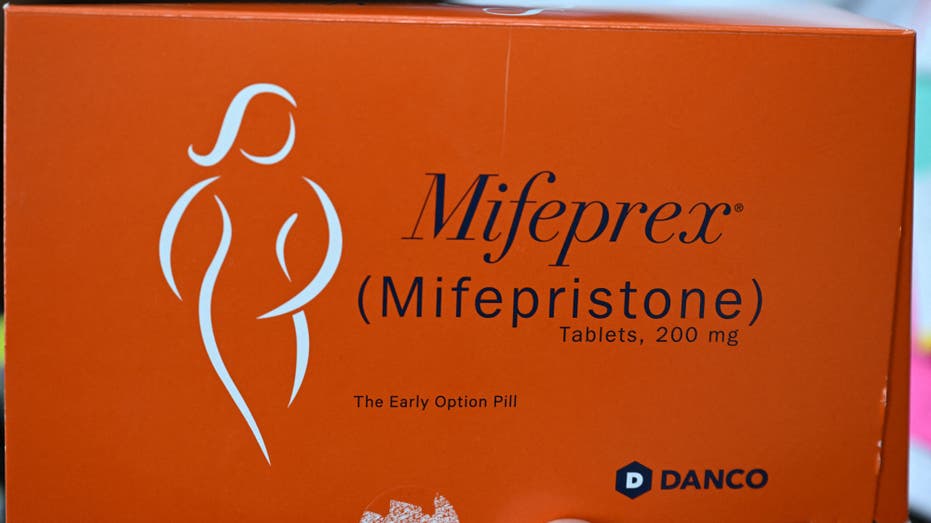 More than 5 million women in the United States have used Mifiprex to abort their pregnancies since it was approved in 2000, according to Danco. The drug is 97% effective in terminating early pregnancy, though approximately 3% of women who take it will "require surgical intervention for ongoing pregnancy, heavy bleeding, incomplete expulsion, or other reasons such as patient request." 
Attorneys from the Alliance Defending Freedom (ADF) are representing the plaintiffs. They have argued that the FDA "chose politics over science" when it granted approval to abortion pills in 2000. The lawsuit contests the FDA's decision to define pregnancy as an "illness" and its finding that mifepristone provides a "meaningful therapeutic benefit" to women seeking an abortion, which expedited the drug's approval. 
Erin Hawley, a lawyer for the challengers, said in a statement that the FDA has put politics ahead of health concerns in its actions on medication abortion.
"The 5th Circuit rightly required the agency to prioritize women's health by restoring critical safeguards, and we'll urge the Supreme Court to keep that accountability in place," said Hawley said, a senior counsel with Alliance Defending Freedom, a conservative legal group that also argued to overturn Roe v. Wade.
Danco's lead counsel Jessica Ellsworth has said the original Texas judge's ruling "rewrites the facts and the law to tell its preferred narrative—which is a storyline that conflicts with established legal principles and with Mifeprex's well-established safety profile."
Fox News' Lawrence Richard, Adam Sabes and the Associated Press contributed to this report.
Read the full article here